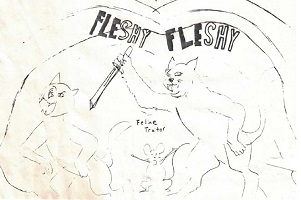 Raw, uncompromising, and relentlessy experimental, fleshy fleshy blew the lid of the calm complacency of the prepatory world in the San Fernando Valley in the late 1980s.
Arriving 8 hours early to Country Club shows, perusing William Shatner records at BeBop records, Stevenson and Jefferson felt there must be something more. Brandishing Casios (including the legendary SK-1), sonic guitars, and enlisting the sometimes help of drummers of dubios skills, fleshy fleshy found that something. The world (albiet the small world of the SFV) was forever better for it.
Their work attracted the attention of a local poet/vagabond, Eric Von Neburg, who joined the band on several compositions including the seminal "Red Planet" and "Irritant #4 Suite" featured here.
After a number of local shows, fleshy fleshy retired to the garage of the Hank Steniberg, a local drummer, where they inexplicably played the same three songs over and over again for months on end. Controversy struck when Jefferson gave a performance of a Weber/Schonberg-inspired piece using advanced and radical Eliot Wave Feedback Loop techniques. Alas, the world was not ready.
Lo-fi before Lo-fi was cool, fans of the Flower Leopards when no one else was...ladies and gentelmen, we present fleshy fleshy!
BONUS: For you added listening pleasure please enjoy PRETENTIOUS THREAT, Fleshy Fleshy's fake straight-edge band!
PERSONNEL:
Jefferson Quiltee - Guitars, Vox
Stevenson Sedgwick - Keys, Guitars, Vox
With:
Eric Von Newberg - Vocals
Steve Sheerman - "Drums"