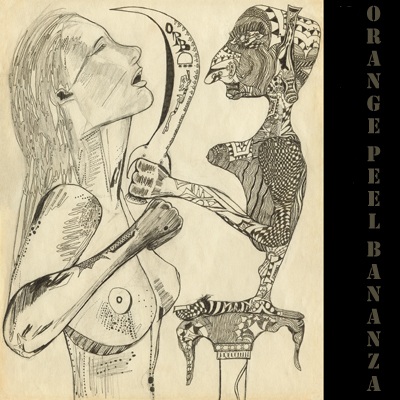 HISTORY
When their previous group DFT imploded, Tacs Namerf and Bones Mc Angst took the songs they wrote for that group, wrote a few more, borrowed Jefferson Quiltee and fired up the HR 16 on short notice to make it in time to be part of the "LA Domination" contingent of the Sopkin festival in Humbolt, CA in 1991. The demo they made for the trip with Quiltee and an Alesis HR 16 drum machine soon gained noteriety in the greater Los Angeles area where they played a number of shows. Skot B of Anal Kitties fame soon became a welcome and permanent addition on bass. After a series of shows with an assortment of drummer, including one who would only pretend to play her bass drum, Scott Malanoski, of Golgotha Incubus, heard the demo and became a fan. The band, admirers of his work, soon convinced him to join.
The band now kicked into high gear, released their casette-only
Head Cut Off Eating Orange
and played a series high-energy of shows in California. The band disbanded a few years later when Skot B moved to humbolt to open an ice cream shop. In the aftermath, Tacs and McAngst formed the legendary Factory of Angst.
SOUND
OPB's sound combined elements of dissonance and experimentalism with punk and Scott M.'s drums added a dramatic tribal element. The lyrics embraced a punk attitude but rather than tired political cliches, the lyrics were more psychological and abstract. Scott F. imbued his vocals with dramatic effects treatments. McAngst's guitar ranged from punk infulenceed to extreme dissonance such as in their seminal "There is No God".
CONTROVERSY
Both the title and lyrical content of "There is No God" garnered them controversy. This heightened to a fever pitch when they allegedly performed the track in a church in the San Fernando Valley on a stage covered with orange halves with upside down crosses on them. In an interview in the LA Weekly the band denied this ever happened, later clarifying that the concert occurred in a multi-purpose room connected to the church and not the church itself and that the orange halves were inverted by a disturbed audience member on thorazine. (At later shows, McAngst was known to rail against audience members suspected of using the substance). In regards to the song itself, the band claimed that the song was misunderstood as an athesitic anthem and was actually about someone having an exestential crisis. Some have pointed to what appears to be the sound of a baby crying at the end, suggesting that the narrator is a women experiencing labor pains who cries out to g_d whom has seemingly forsaken her.
PERSONNEL:
Tacs Namerf (aka Scott Freeman) - Vocals, Effects
Bones McAngst (aka Stevenson Sedgwick) - Guitar
Skot B. - Bass
Scott Malinoski - Drums
Other contributors:
Jefferson Quiltee - Bass (original demo and early shows)
HR 16 - drums
Ms. J? - drums (sans bass drum)