The Electrocution Boys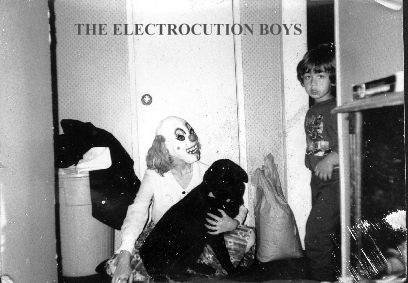 circa 1996

If you love something, set it on fire
The Electrocution Boys plyed their time at the Atlar of Infinity at 30 7th Street in San Francisco.
Recording studio and sometimes home to members of the Boys as well as The Chris Knapp Death Sentence, Anal Kitties,
and Holy Revolver Society, as well as many ghosts,(The building having been a hotel for the down and out where stabbing and shootings
were as common as the piss at the foot of the toilet or the flies in the kitchen. It was also a Tattoo Museum for many years.),
the Altar provided an eerie backdrop that suited the boys dark and noisy tunes perfectly.
xxx
The Boys Were:
Stephen Edison Payne (aka Stevenson Sedgwick): Vocals, Guitars
Jerry Currant (aka Jefferson Quiltee): Bass, Backing Vocals
A.C. Hertz (aka Skot B): Drums, Backing Vocals
Listen to tracks from the now out of print
The Elecctrocution Boys Bring You Bad Vibes:

Tragic Women mp3
Rain Song mp3
A Disappearance mp3
Hölenzwang mp3
Video for A Disappearence
contact: mungasoproductions at protonmail.com