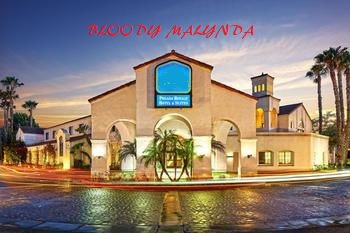 In the beginning, there was Bloody Malynda. Setting: Southern California. The seedy San Fernando and Simi Valleys. Late '80s. The boys of Bloody Malynda tried to tread water amongst the filth that threated to engulf them: Swedish automobiles, sodomic ballers, drama loft decadence, et. al., etc, ad nauseam. When their mentor, renowned band leader Barry Keno looked out at the huddled masses slouching towards Savon-Osco drugs and procalimed "Yous guys are eediots" Bloody Malynda knew he was right.
Enough became enough and Bloody Malynda choose to fight back the only way they knew how, with a vicious and viscous audio and lyrical assault.
Ahead of their time, their track "Drowning in Grunge" pre-dated the Seattle musical movement of the same name a good half a decade. And does one hear a hint of Apocalypic Folk ala Current 93 in "As I walk through the cold"?
Renowned San Fernando Valley audio engineer Ray Plattapus saw something in Bloody Malynda
($150 - ed.)
and the band recorded "Night at the Posada." The polished track attracted calls of sellout from within the band as well as the ire of a major hotel chain who found the lyrics a little too close to home.
Taken aback, the band experimented in new directions, with the keys and drums stylings of the Ordeal of Cream sessions and finally the Emo years where their angst took a more sophisticated and sensitive tact. (Altough the biting socal commentary still came through on tracks like "Crash a Saab, Get a Saab")
Bloody Malynda's star began to fade, as Fleshy Fleshy's began to rise. They converged for a short while in a supergroup, the racous Twist of Cano. Two tracks are presented here from their wildly successful gig at CCP.
The dust has long since settled, but one thing is as true as it was then: Fuck Mike P*****lli! (Just Kidding!)
PERSONNEL:
Tony M. - Bass, Vocals
Jefferson Quiltee - Guitars, Drums
Stevenson Sedgwick - Keys, Vox
Adam H. - Drums